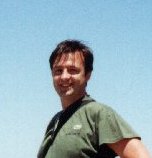 Here I am.
If you click above, you will see the original photo.
First of all, let me introduce myself.
My name is Ezio Uboldi. I live and work in Milan, Italy, and I've created this site for a bit of fun and to advance my interest in Information Technology.
This site is a kind of gymnasium for excercising the Net language and for improving my knowledge.